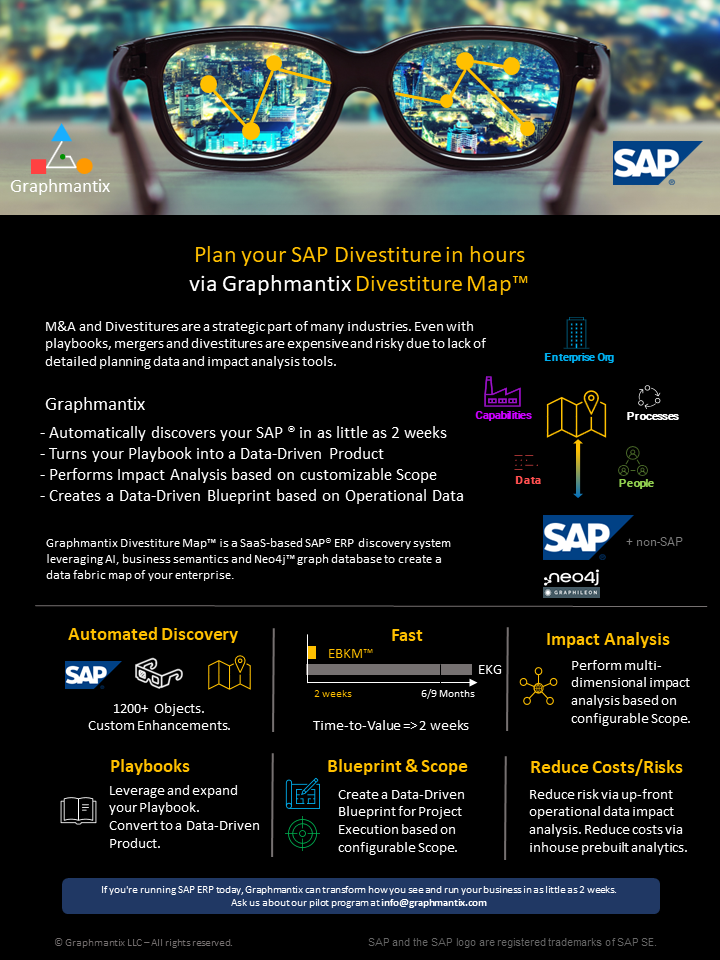 M&A and Divestitures are a strategic part of many industries. Even with playbooks, mergers and divestitures are expensive and risky. In many cases, this is due to not having up-front, data-driven information and proper governance structure.
Our M&A and Divestitures solution focuses on the Analysis, Planning, and Integration/Separation Execution phases of the process and is offered in two flavors: Merger or Divestiture.
Graphmantix quickly allows you to define your Merger/Divestiture scope and discovers its impact in order to create a data-driven roadmap based on your SAP ERP system in four steps:
Leverage or Create Playbook
Define merger/divestiture Scope
Perform automated Impact Analysis
Create Data-Driven Roadmap
Planning and preparation is key to the success of M&A and Divestitures.  Graphmantix assists companies to flexibly scope their project and understand the dependencies and impact of an acquisition or divestiture pre/during/post TSA, lowering project costs and risks.
The Graphmantix Divestiture Solution will allow you to create multiple scenarios and understand the impact of each, allowing you to:
Plan your security isolation pre-TSA using impacted Resources and Security.
Plan your HR restructuring to support TSA and post-TSA.
Re-engineer impacted inter-company processes.
Communicate early with impacted top Customers, Suppliers and Partners.
Plan your target carve-out and data migration with Application, Assets and detailed data for migration.
Get accurate fixed-bids from service providers based on detailed scope lists.